EDISE provides a reliable and secure solution for data distribution and consolidation to support business growth and reduce information technology complexity
---
EDISE  features :
Flexible Database and File System

Transform Between Any Database

Built-in RSA-4096 Security

Optimize Network (Internet or Intranet)

Scheduling and Auto Resume

Centralized Management


Controlling and Web Based Reporting

Security / Secure Communication

EDISE has an exclusive network encapsulation that allows data to be moved safely. EDISE server doesn't need to change standard network access protocol, only required outgoing connection from branch.

Streaming Input/ Output

Support data transfer in real time and parallel, thereby accelerate the process of data transfer.

Checkpoint & Resume

Support resume process, thereby if the process of data transfer disconnected, then the remaining data will be sent to according to checkpoint, don't need to repeated the overall data.

Adhoc & Schedule Transferred

The process of data transfer can be arranged flexibly.
WAN Optimizations

EDISE designed to perform data transfer when the internet is not in good condition by using a compression method, parallel processing and data buffering.

Central repository

Support centralized management data thereby transfer from one point to the other can be arranged from HO, without need to do intervention process to data source.

ETL function

EDISE can be used to perform the exchange of different types of data sources including: Oracle Database, Microsoft SQL Server, Firebird, Microsoft Excel, PostgresSQL, File Transfer (sync,copy, move), IBM DB2, Sybase, Microsoft Access, CSV, Mysql and any other data base that supports JDBC.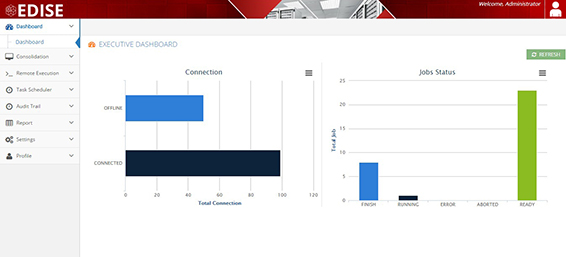 DASHBOARD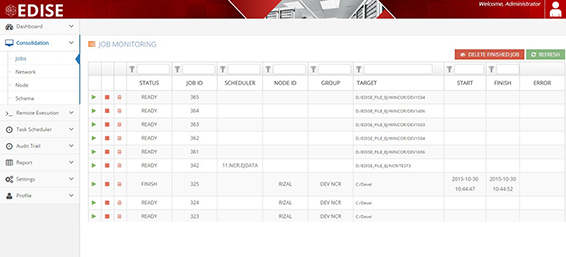 JOB MONITORING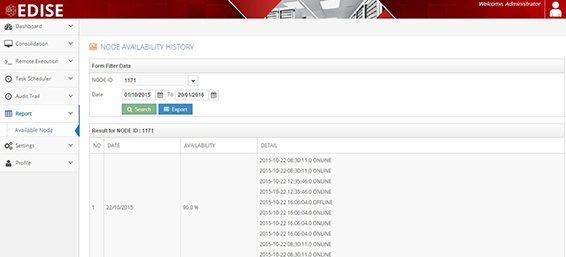 CONNECTION HISTORY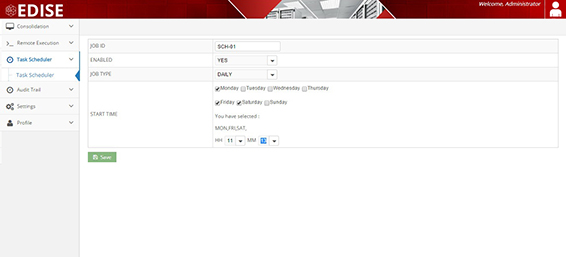 SCHEDULER