Phiro is a HR solution which integrate & automate all the main HR process and manages the entire lifecycle of your organization's workforce
---
Phiro HR management system provides 8 modules for operating different HR processes:
Career Management

HR Planning & Organization

Personnel Administration

Personnel administration module provides the setting of basic data, many kinds of employee histories, and attendance setting which related to employees.
Maintain a centralized database of all company information
Create automation for all HR management processes in 'drag-and-drop' web base editor. Admin can design and create custom electronic forms and approval workflow.

Recruitment

Recruitment module integrates and automates all the recruitment and selection process which support you to get the right people suit with organization needed.
In recruitment module, you enable to:

create a centralized candidate database
manage, approve and easily fill open vacancies
provide online applications and collaboration with applicants
unify the onboarding process.

Workforce Planning

Manpower planning provides tools to analyze your organization requirement suitable with organization goals. This module consists of :

analyzing the current manpower inventory
making future manpower forecast
Create fulfillment for the requirement (recruitment, selection, placement, etc.)

Training & Development

Training module provides setting of employee learning process suit with competency standard which already be appointed. Learning process covering planning, learning & evaluation. Integrate with budget allocation and budget journal.

Implementation, until the evaluation after activity.
Performance Management

Performance management module automates employee performance management process.

In performance module, you enable to:

Create customized period and component, in the easy-to-use format.
Visualize and align KPI Goal
Analyze and improve performance for entire organization
Monitoring performance management process in a graphical dashboard.

Compensation & Benefit

The Compensation and Benefits management module enables you to plan, track, and analyze the compensation and rewards for each employee.

With this compensation management, you can:

Operate the module with employee compensation components
Manage compensation in a collaborative environment
Reward performance and productivity appropriately

Career Management

Career management module enables you to identify and develop the most talented workers and promote them for the good of the company. With career management module you can:

can easily define career paths & individual goals for your employees
Work with talent pools for various employee groups and levels
Create succession plan
Retain and promote key employees and high performers

HR Planning & Organization

This module prove setting of organization structure, include relation of business entity, organization unit, location, position, etc. Also provide facilities for filling analysis & job evaluation until job grading.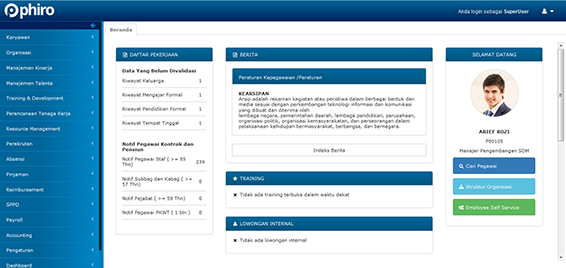 HOMEPAGE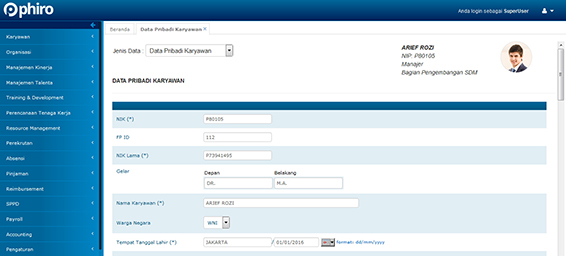 PERSONNEL ADMINISTRATION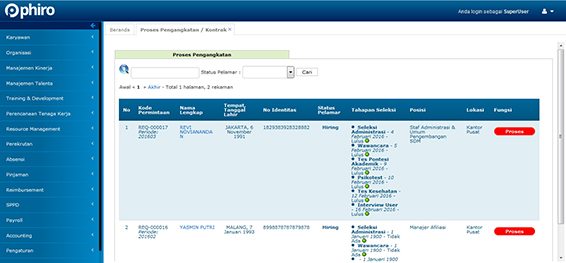 RECRUITMENT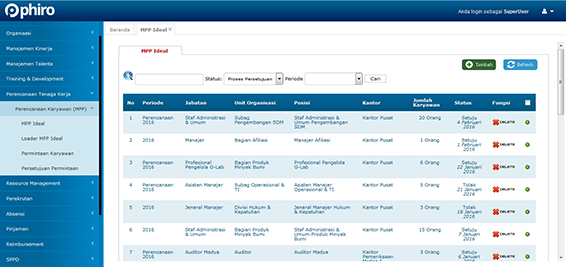 WORKFORCE PLANNING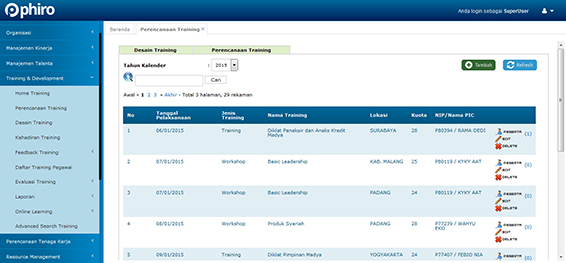 TRAINING & DEVELOPMENT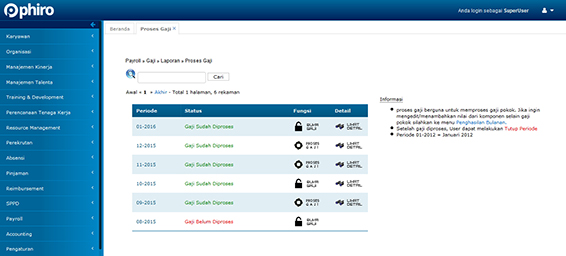 COMPENSATION & BENEFIT

CAREER MANAGEMENT
---